Colombia condemns murder of land activist Ana Cordoba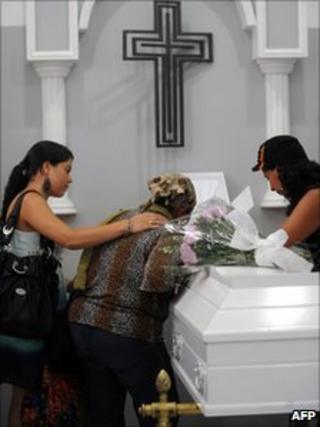 Colombian Vice-President Angelino Garzon has denounced Tuesday's murder of a land rights activist.
Ana Fabricia Cordoba, 51, was shot dead by an unidentified gunman on a bus in Colombia's second city Medellin.
Ms Cordoba had fled her home in northern Uraba province in 2001 after several of her relatives were killed.
She had been campaigning for the restitution of stolen lands to Colombians displaced by decades of armed conflict.
Ms Cordoba had fled to Medellin after her husband and several of her children and siblings were killed in Uraba province, an area plagued by right-wing paramilitary and left-wing rebel violence.
In Medellin, she led a number of non-governmental organisations supporting the rights of victims of Colombia's decades-long armed conflict.
She founded Latepaz, a pressure group campaigning for the restitution of the almost seven million hectares (17 million acres) of land forcibly taken from its rightful owners by various armed groups since 1985.
Death threats
She was also a member of Women's Peaceful Path, a group demanding a negotiated settlement of the conflict between the Colombian state, various rebel groups and the paramilitary groups originally founded to combat the rebels.
Some of her colleagues said she had been receiving death threats and had asked the state for protection, but had not received any.
But Colombian Interior Minister German Vargas Lleras said Ms Cordoba had twice turned down protection offered to her.
Her daughter Diana Ospina said she and her siblings had received a telephone call after their mother's death warning them that they would "end up the same way".
Victims' Law
Ms Ospina asked the government to solve her mother's murder and to grant her and her two younger siblings protection.
Vice-President Garzon said there would be a thorough investigation into Ms Cordoba's murder.
"This government backs the victims and their rights and warns any criminals that cases like Ana Fabricia's won't go unpunished," Mr Garzon said.
The Colombian parliament this month approved a law to compensate victims of the civil conflict and return stolen land to millions of displaced people.
Interior Minister Vargas Lleras admitted that it would be impossible to protect each and every one of the people returning to their land, but he said the security forces would be sent to the areas where land restitution was underway to improve the conditions.