Chile volcano disrupts flights in Western Australia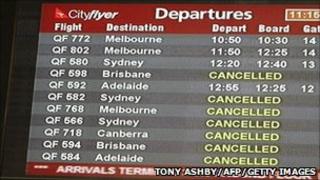 Flights into and out of Perth in Western Australia have been cancelled due to the volcanic eruption in Chile.
Airlines Qantas, Virgin and Jetstar said the ash cloud was too low around Perth for aircraft to fly safely.
Winds have carried particles 5,600 miles (9,000km) from the Puyehue-Cordon Caulle volcano range.
The eruption, which began on 4 June, has caused levels of flight disruption not seen since an Icelandic volcano paralysed Europe in 2010.
Experts monitoring the Puyehue volcano believe its eruption is likely to grow more violent in the coming days.
Previous eruptions in 1960 and in 1921 lasted for about two months.
Widespread disruption
In a mixed picture, the restrictions in Western Australia came as air travel in other parts of the country was getting back to normal.
Virgin said the ash was too low in the atmosphere to permit safe flights to and from Perth.
"The ash plume is forecast to be at a lower band level of approximately 15,000ft and with this in mind, Virgin Australia will suspend all services into and out of Perth as a precautionary measure," said Group Executive Sean Donohue in a statement.
Qantas and its subsidiary Jetstar followed suit shortly afterwards.
Qantas has again cancelled all flights to New Zealand and the southern island of Tasmania, as well as to the Argentinian capital Buenos Aires.
Meanwhile, flights to and from Adelaide were resumed by Qantas, Jetstar and Tiger on the fourth day of disruptions in Australia. Flights to and from Melbourne are also back to normal.
Virgin Australia and Air New Zealand have continued services to New Zealand and Tasmania by changing flight paths to avoid the ash cloud.
Volcanic Ash Advisory Centre forecaster Graham Weston told ABC radio that cold air from the south of Western Australia was pushing the ash towards Perth.
"It is drawing up some of that ash we do have in the Southern Ocean towards the south-west of the continent," said Mr Graham.
In South America some international flights resumed overnight from Argentina's main airport in Buenos Aires, but domestic flights are still affected.
On Tuesday there were no flights in or out of Buenos Aires.
The United Nations Secretary-General Ban Ki-moon was forced to take a boat from Buenos Aires to Montevideo in Uruguay.