Appeal in Mexico as ex-Tijuana mayor Hank Rhon freed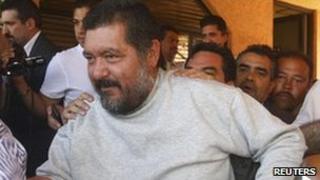 Mexican prosecutors are planning to appeal after the former mayor of Tijuana, Jorge Hank Rhon, was twice freed from arrest in a day.
A judge dismissed weapons charges against Mr Hank Rhon, but he was swiftly re-arrested in connection with a murder investigation.
Another judge then ruled there was insufficient evidence to hold him.
The arrest and subsequent release of Mr Hank Rhon, a casino magnate, have provoked controversy.
For his critics, Mr Hank Rhon, 55, is a symbol of the impunity enjoyed by Mexico's rich and powerful, while his supporters argue his detention was politically motivated.
In the space of 24 hours, Tijuana's former mayor was freed from jail, promptly returned to custody and then finally released to go back home.
Mr Hank Rhon, 55, was detained earlier this month after soldiers found 89 weapons at his home in Tijuana, on the US-Mexico border.
He said that the weapons were not his and said he had never seen them before.
A federal judge ruled that he should be released due to insufficient evidence, saying the soldiers' accounts of how the weapons were found did not hold up.
Another judge then ruled Mr Hank Rhon could not be held for questioning over two murders allegedly committed with weapons found in his house.
Mr Hank Rhon served as mayor of Tijuana from 2004 to 2007.
He ran for governor of Baja California in 2007 for the Institutional Revolutionary Party (PRI) but was defeated by the candidate from the National Action Party (PAN).
He enjoys popular support in Tijuana, where several thousand people took to the streets after his arrest.