Brazilian landless activist Jose Rainha Jr arrested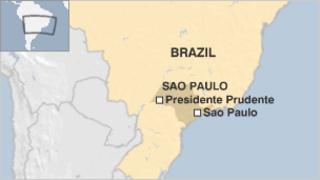 One of the founders of the landless movement in Brazil, Jose Rainha Junior, has been arrested on suspicion of misappropriating public funds.
Mr Rainha, 50, is accused of funnelling public money away from landless families, which he denies.
He was a leader of Brazil's Landless Workers' Movement until he set up a parallel organisation in 2007.
He was convicted of murdering a farmer and a policeman in 1989, but the sentence was overturned on appeal.
Mr Rainha was arrested in Presidente Prudente in Sao Paulo state.
Police did not say how much money he is accused of misappropriating, but said he was one of 10 suspects wanted in connection with the charges.
They accuse the landless group Mr Rainha was leading in Pontal de Paranapanema of channelling money from the government's National Institute for Agrarian Reform away from the landless families for whom it was intended.
During his time with the MST, Mr Rainha had close links to the former President, Luiz Inacio Lula da Silva, whose party the landless movement supported.
Founded in 1984, the MST, which campaigns for land reform and the rights of landless workers, is considered the best organised social movement in Brazil.
The MST said it would not comment on the arrest of Mr Rainha as he "had not participated in any of the national, state or local meetings of the movement" for years.