Venezuelan forces storm prison 'to protect lives'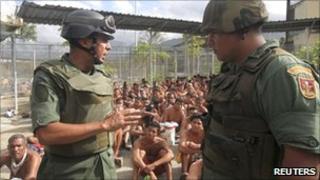 At least 3,500 troops from the Venezuelan National Guard have stormed a prison near the capital, Caracas in an attempt to regain control there.
It follows a riot last Sunday between two rival gangs, in which 21 inmates were killed, and many more injured.
Government official Nestor Reverol said the troops had now reasserted control over three-quarters of inmates at the Rodeo prison.
Some prisoners have resisted, and gunfire has been heard inside.
Reports suggest the clashes broke out as troops tried to disarm some of the prisoners.
Notoriously overcrowded
The government says at least one member of the security forces has been killed, and another 19 injured.
So far, it is not clear if there have been casualties amongst the inmates.
The security forces have also fired tear gas in an effort to disperse groups of relatives of the inmates, who have gathered outside the jail.
Some angry relatives threw stones and other missiles at the troops.
The Venezuelan vice-president, Elias Jaua, has sought to reassure the prisoners' relatives.
In a televised speech, he explained to them why the government needed to take action.
"The intervention we're carrying out today isn't to massacre their relatives," he said, "it's to protect the lives of more than 5,000 inmates."
The Inter-American Commission on Human Rights issued a statement on Thursday calling for the Venezuelan authorities "to take concrete steps to protect the life and physical integrity of persons deprived of liberty".
Venezuelan prisons are notoriously overcrowded and there have been a series of riots since the beginning of the year.