Volcanic ash affects Chile after round-the-world trip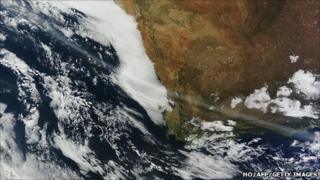 Ash from a volcanic eruption in southern Chile has disrupted domestic flights at home for the first time, having travelled right round the world.
The Puyehue-Cordon Caulle volcano started spewing ash into the atmosphere two weeks ago.
This caused travel chaos, first in Argentina, Uruguay and southern Brazil, and later in Australia and New Zealand.
But Chile remained relatively unscathed, until a number of flights were cancelled on Friday.
The Chilean airline, LAN, cancelled flights to a number of towns in the south of the country, including Puerto Montt and Punta Arenas.
Most services have since resumed.
'Red alert'
Chilean scientists monitoring the volcano say eruptions are continuing, but that activity there has diminished in recent days.
For the time being, the authorities there are keeping the threat level on "red alert", although on Friday the government reduced the threat level from six to five.
The country's mining ministry announced the volcano was throwing out 3 million cubic metres of volcanic material a day now, compared with over 30 times that amount when it first started erupting.
Fall-out from the eruptions continues to affect areas across the border, in Argentine Patagonia.
On Thursday, the government in the southern Argentine province of Neuquen declared it was implementing emergency measures designed to help the tourist industry and farmers whose livestock has been affected by the ash.