Reinforcements sent after Venezuelan prison stand-off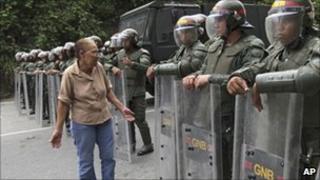 The Venezuelan authorities say they will resume a major operation aimed at regaining control of a prison near the capital, Caracas.
An extra 400 troops have been drafted in, after more than 3,500 National Guards were unable to take full control of El Rodeo prison on Friday.
This follows a riot last Sunday between rival gangs in which more than 20 inmates were killed.
Attempts to negotiate a peaceful resolution have so far failed.
On Friday, the government announced that its forces had re-taken all of the part of the prison called Rodeo I, accounting for some three-quarters of all inmates.
Two members of the security forces were killed, and at least another 18 injured on Friday.
It is not clear how many casualties there have been among prisoners.
'Fake' death photos
The authorities say one inmate was killed on Friday, and have said photos circulating on social media sites showing more casualties were "fake".
An estimated 1,300 prisoners still remain in the part of the prison not under the control of the authorities - Rodeo II.
Some of these prisoners are armed.
The interior minister, Tareck El Aissami, announced on state television that a small group of inmates were using guns to exert control over the other prisoners.
He said he had tried to negotiate with some of these leaders in an effort to get them to surrender.
But these leaders, whom he classified as "negative", had not responded.
"Their attitude continues to be the same: hostile," he said. "They are refusing to let assistance be given to prisoners. They are refusing to have a dialogue."
The minister said they would try to keep dialogue going.
He said "90% of prisoners agreed with the measures taken by the government".
And he went on to say that some of the leaders would be punished by being transferred to high security prisons.
Notoriously overcrowded
Outside the jail, tense stand-offs have continued, with security forces clashing with angry relatives.
The security forces have fired tear gas in an effort to disperse groups of relatives of the inmates.
On Friday, the Venezuelan vice-president, Elias Jaua, sought to reassure the prisoners' relatives.
In a televised speech, he explained to them why the government needed to take action.
"The intervention we're carrying out today isn't to massacre their relatives," he said, "it's to protect the lives of more than 5,000 inmates."
Venezuelan prisons are notoriously overcrowded and there have been a series of riots since the beginning of the year.