Argentine leader Cristina Fernandez's re-election bid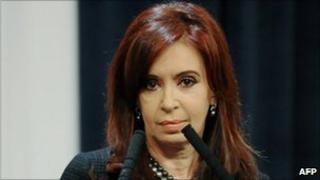 Argentine President Cristina Fernandez de Kirchner says she will stand for re-election in October.
Speaking on television, she said she wanted to continue to drive her government's plans forward.
Ms Fernandez was elected in 2007, succeeding her husband, Nestor Kirchner, in the post.
Mr Kirchner had been widely expected to run again this year, when he would once again have been eligible as a candidate, but he died in October.
Ms Fernandez ended months of speculation about whether she would stand for another term when she went on national television and said: "I always knew what I should do, and what I had to do."
It was widely acknowledged that Ms Fernandez and Mr Kirchner made a formidable team. They were often described as Argentina's power couple.
But Mr Kirchner's death robbed President Fernandez of her closest political confidant.
And until Tuesday there had been rumours that health concerns or family pressures might persuade her not to run again.
But, still wearing black in memory of her husband, she said: "How could I give up and not keep going?"
Economic legacy
Since she came to power, Ms Fernandez has broadly continued her husband's policies.
She renewed contacts with the International Monetary Fund, after years of hostility.
But inflation in the country remains high, and many say, underreported.
The president faced her biggest challenge in 2008, when farmers protested for months against her plan to raise taxes on farm exports.
The protests led to food shortages in Buenos Aires and the proposal was finally defeated in Congress.
Analysts say a growing economy and lower unemployment have helped the president regain some of the popularity she lost during the stand-off with the farmers.
The presidential election is scheduled for 23 October.