Argentine President Cristina Fernandez eyes second term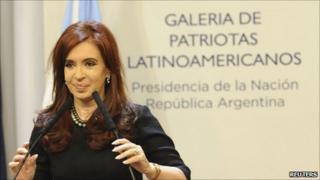 President Cristina Fernandez de Kirchner has finally announced what most Argentines were expecting.
She would, she said at a televised event, be running for a second term as president in elections on 23 October.
The announcement, just days before the Saturday deadline to submit declarations, came as a surprise to almost no-one, having been long anticipated in political circles and the Argentine media.
But leaving it so late gave rise to speculation she might have had doubts.
It had been expected her husband and predecessor as president, Nestor Kirchner, would try to be her successor.
But his death last October, of a heart attack at the age of 60, put paid to any such plans.
Key backers
There have been rumours about President Fernandez's own state of health after she pulled out of a number of official engagements.
Her daughter, Florencia, was said to be reluctant for her mother to stand again.
And analysts say Mr Kirchner's death left a huge hole in Argentine politics, felt by his allies and his enemies alike, but most profoundly by his still grieving widow.
Even before she declared her intention to run, President Fernandez was comfortably ahead in the opinion polls.
Such was the control and influence she and her late husband exerted on the governing Peronist Party that no credible alternative leaders have risen through their ranks.
Even if Ms Fernandez had been reluctant to stand, her supporters would not have allowed her to entertain such thoughts for long since they believe her victory to be a near certainty.
The president is unpopular in the capital, Buenos Aires, where her party rarely does well, but she enjoys greater support in the populous industrial belt around the city.
Ms Fernandez can also count on the backing of several key provincial governors.
She has won praise for her continued battle for human rights and for social programmes in the fight against poverty.
However, she has a poor relationship with the media, especially the powerful Clarin group, and critics say the government is sometimes ineffectual in conveying its message to the public.
Failure to unite
The opposition is split six ways.
Eduardo Duhalde is a former president, and Ricardo Alfonsin, of the opposition Radical Party, the son of a former president.
Alberto Rodriguez Saa is the brother of an ex-president who lasted just a week in office.
Hermes Binner is the left-wing governor of Santa Fe province, while Jorge Altamira is uniting a number of other leftist groups.
Making up the numbers is Elisa Carrio, a regular presidential candidate and the only other woman in the field.
The opposition candidates have been criticised in the Argentine media for not being able to unite against the president after months of negotiation and rumours about possible alliances.
"We don't have a party political party system," said consultant Federico MacDougall.
"And because of that our society votes for individuals and not for long-term politics. We don't know what [Cristina] Kirchner, Alfonsin or Binner think or are planning to do if they're elected, but the people vote for them because they see the public administration as a bad thing that must be administered by someone and not by themselves."
There are always scandals bubbling in Argentine politics. But it is in the run-up to elections that their impact is most keenly felt, as opponents use them for political gain.
President Fernandez is faced with several. None of them involve her directly, but they all have the potential to harm her indirectly.
The most worrying for the government involves the human rights group, the Mothers of the Plaza de Mayo.
The government has given it millions of dollars to build housing for the poor, without requesting any kind of guarantees or accountability.
The organisation, with which the president and her husband had close ties, is being investigated on counts of money-laundering and fraud.
Rising prices
The Argentine economy is growing, mostly thanks to the export of soya, primarily to China and India.
Some rural regions are booming, but the governments of the Kirchner couple have never enjoyed good relations with the powerful farming lobby, which resents the high taxes levied on their produce.
The other awkward issue still waiting to be tackled is inflation.
Many analysts, and shoppers, question the official figure of about 10% a year, saying the real rate is probably nearer to 30%.
Wage rises generally keep pace with inflation and Argentine High Streets and shopping malls, as well as car showrooms, continue to do a booming trade.
But economists say inflation is an issue the next administration will have to tackle early.
Another issue keeping the analysts and newspapers columnists guessing is who President Fernandez will choose as her running mate.
Her last choice, opposition politician Julio Cobos, was widely perceived as a disaster. They fell out early on and then he cast the deciding vote against the government in a bitter dispute with the farming lobby.
He remained in office, but they do not speak.
With all the candidates now declared, the election race will begin in earnest.
President Fernandez is the clear front-runner, but that does not mean she faces an easy ride to the finish line.