Machu Picchu: What is the legacy of 'Indiana Jones discoverer'?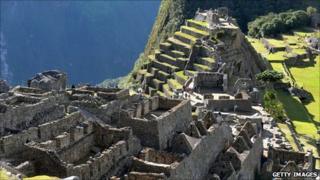 Peru is celebrating the centennial of the "discovery" of Machu Picchu by explorer Hiram Bingham - but what exactly is his legacy?
It is not hard to see how a sepia-tinted photo of Hiram Bingham, the American explorer academic, standing atop Machu Picchu could have inspired Hollywood's Indiana Jones character.
Every schoolboy has seen those films where the hero stares death in the face in jungle temples surrounded by hordes of cult-worshipping natives. It is an image that does not go down well in the countries where those adventures are supposed to have taken place.
Yale University historian and lecturer Hiram Bingham was not really an Indiana Jones and Peru was not one of those countries, but as the nation celebrates the 100th anniversary of his "discovery" of Machu Picchu, the debate continues over Bingham's legacy.
They start with the fact that many Peruvian scholars now say the Inca citadel was never really lost at all.
"Bingham was an academic who was much more wordly than the local people of Cusco," says Jorge Flores, an anthropology professor at Cusco's San Antonio Abad University.
"They were used to archaeological sites all over the place, while Bingham was able to take advantage of the situation for his own personal ends."
It is now widely accepted in the academic world that Bingham did not "discover", or even "re-discover", the mountain-top Inca citadel. Peruvian Agustin Lizarraga got there before him, and a German, Augusto R Berns who bought land on the site in 1860s, may have even plundered the ruins - with the knowledge of the Peruvian government.
Moreover, Dr Flores asserts that Machu Picchu was described in colonial documents dating back to 1555.
"Machu Picchu was never lost, but Bingham made known to the world the importance of this archaeological site for the history and patrimony of Peru," says Australian explorer, John Leivers, who has spent much of the last 20 years exploring Inca ruins.
Peru's government has sidestepped the issue of Bingham's much-disputed discovery by labelling the event: "100 years of Machu Picchu in the world".
Until recently, Peru was locked in long-running dispute with Yale University over artefacts that were taken by Bingham in 1912. After a diplomatic and legal campaign to recover them, Peru triumphed in seeing the 46,332 articles returned. It said they had only been on loan to Yale.
Many of them were returned in March 2011, including 377 museum pieces, and will be displayed in Cusco.
Peru's outgoing president, Alan Garcia, resorted to writing directly to his US counterpart Barack Obama to ask him to intervene in the dispute with Yale University.
"Fifty years ago Bingham was named an honorary professor of the university, nowadays nobody would think about doing something similar. The perception has completely changed about the country's historical and archaeological heritage," says Dr Flores.
"The spirit of the moment is vindication of Peru's rights over its archaeological material which was stolen at different times on different pretexts."
Peruvian historian Mariana Mould de Pease says she will spend the anniversary reflecting on how one man was able to say he had discovered something in a country that was not his own.
She adds that Mr Bingham did not give "due credit" to the Peruvians who helped him make the "scientific discovery" of Machu Picchu - from the Peruvian president at the time to the Quechua-speaking peasant who guided him to the Inca site.
But Hugh Thomson, author of The White Rock: an exploration of the Inca heartland, defends Bingham's legacy.
"I don't think anyone can take away from him the fact that he was the genuine scientific discoverer of Machu Picchu," he says.
"He made it known to the world and otherwise it wouldn't have been."
For most Peruvians, the celebrations will be more about the ruins themselves which have come to symbolise their national identity. Government plans for a big celebration on the site itself were called off when the UN's cultural body Unesco objected.
Machu Picchu had more than 800,000 visitors in 2009 before the railway line connecting it with Cusco was washed away in floods in January 2010, causing the loss of tens of millions of dollars in tourist revenue. Today, the site continues to be as popular as ever.
"In 2011, Machu Picchu means one thing primarily to Peruvians and that is that it is a great earner," says Mr Thomson.
"As well as that, it's a huge symbol of their Inca past and they are very proud of it but it is an earner."