Colombia to destroy houses used by rebels for attacks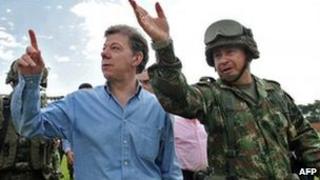 Colombian troops have been given the order to destroy houses used by rebels to attack civilians or government, President Juan Manual Santos says.
He was speaking after left-wing Farc guerrillas attacked several towns in the west of the country, killing at least three people and injuring dozens.
Mr Santos says the attacks showed the rebels' "desperation" as security forces closed in on their leaders.
In recent months, guerrillas have stepped up hit-and-run attacks.
President Santos announced a range of measures in the wake of the violence in Cauca department.
Security would be stepped up, he said, and another mountain battalion would be created in Tacueyo, to operate "in a zone traditionally used by guerrillas as a corridor and a sanctuary".
"We've taken the decision that from now on, security personnel will destroy any house being used by terrorists to attack government forces or civilians. No more using houses to shoot at security forces or at civilians," Mr Santos said, after holding a security meeting.
Over the weekend, Farc rebels staged a series of attacks in Cauca, long plagued by violence from armed groups.
Worst hit was Toribio, in Cauca province, where rebels drove a small bus laden with explosives into the local police station.
Several houses were also destroyed.
Two civilians and a policeman are reported to have died as rebels and officers exchanged fire.
Toribio has repeatedly been targeted by the Farc, Colombia's largest left-wing rebel group.
The town is located in a mountainous area where the Farc's Sixth Division is active.
Farc rebels also targeted the towns of Corinto, Caldono, Jambalo and Santander.
President Santos said the attacks were a cowardly response to the successes of the security forces in the area.
"We know exactly what they're thinking: they're doing their best to distract the security forces because we're taking away their sanctuaries and lairs," he added.
President Santos was referring to a recent raid by the security forces in which, he said, they came close to catching Farc leader Alfonso Cano.
According to Mr Santos, Mr Cano left the camp only 12 hours before soldiers moved in.