Venezuela's Chavez expects further cancer therapy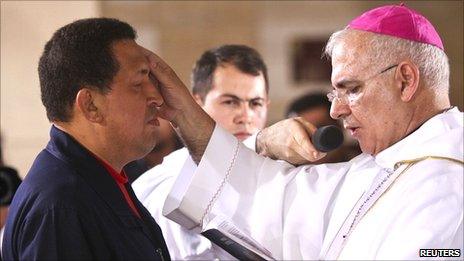 Venezuelan President Hugo Chavez has acknowledged that he expects to have radiotherapy or chemotherapy in his ongoing cancer treatment.
But he still did not say what type of cancer he has, in a telephone interview with state TV.
Mr Chavez had surgery in Cuba last month to remove a cancerous tumour.
Since his return home on 4 July, the 56-year-old president has cut his workload on doctor's orders.
President Chavez said it was a major operation and lasted about six hours.
"I had a big, big tumour," he said. "When I saw that image, I said, 'My God, it's a baseball."'
"I'm in the second stage of the disease, [going through] an organ-by-organ assessment and other factors. I mustn't give more details."
Mr Chavez managed to get back to Caracas in time for the nation's 200th independence anniversary, though he was conspicuous by his absence from the celebrations.
Officially, his plans remain unchanged to run for re-election in late 2012.
President Chavez has been actively posting messages on Twitter.
He has appeared on television in the past several days addressing troops, doing stretching exercises and leading a Cabinet meeting.
Nevertheless his battle with cancer has raised questions over his ability to carry on as leader. He has no obvious successor.
He attended Mass on Tuesday night at the military academy in Caracas, joining friends and aides in praying for his recovery.
Once an altar boy, President Chavez has fallen out with some Venezuelan Roman Catholic leaders. But he remains a Christian, believing Jesus stood for principles similar to socialism.
Related Internet Links
The BBC is not responsible for the content of external sites.