Colombian colonel sentenced for faking civilian murders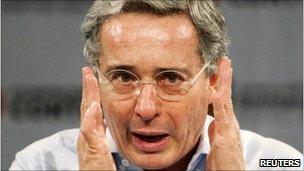 A Colombian army colonel has admitted his unit murdered 57 civilians, then dressed them in uniforms and claimed they were rebels killed in combat.
Colonel Luis Fernando Borja was sentenced to 21 years, reduced from 42 years for accepting responsibility.
In a typical case in 2007, Borja admitted two men were lured to their deaths with supposed promises of work.
He is the most senior officer convicted so far in what has become known as the "false positives" scandal.
The scandal arose from a body bag culture in the army, in which soldiers were rewarded with prestige and promotions according to the number of rebels they killed.
The attorney general's office is investigating more than 1,400 cases involving thousands of victims.
Borja's unit was operating in the northern province of Sucre when the murders, for which he has been convicted, were perpetrated.
Most of the "false positives" occurred under the two administrations of President Alvaro Uribe. He is credited with beating back left-wing rebels who threatened to overthrow the state.
Now questions are being asked about the cost of this success in human rights abuses, says the BBC correspondent in Bogota, Jeremy McDermott.
Earlier this month, eight soldiers were sentenced to 60 years each for killing four farmers and then pretending they were guerrillas in 2006 in the province of Antioquia.