Venezuela's Hugo Chavez to have chemotherapy in Cuba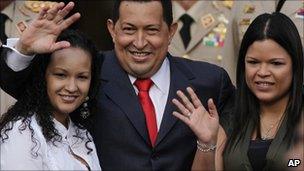 Venezuelan President Hugo Chavez is to return to Cuba to resume cancer treatment, including chemotherapy.
He recently returned to Venezuela after spending nearly a month in Cuba, where he had a cancerous tumour removed.
He has asked the National Assembly to authorise Saturday's trip, as the constitution requires.
During his previous absence, opposition politicians questioned his ability to lead Venezuela from abroad, rather than temporarily handing over power.
Mr Chavez said he would go to Cuba "to begin what we've called the second phase".
Since his return home on 4 July, the 56-year-old president has cut his workload on doctor's orders.
He has not given precise details of where the tumour was found, only that he was operated on in the pelvic region.
Flanked by his two daughters, Mr Chavez announced his plans to travel to Cuba after meeting Peru's President-elect Ollanta Humala at the presidential palace in the capital, Caracas.
Earlier, Brazil's official news agency had reported that Mr Chavez would be undergoing further treatment for cancer at a hospital in Sao Paulo.
The Venezuelan president had spoken to his Brazilian counterpart Dilma Rousseff about the trip, Agencia Brasil reported.
But hours later on the steps of the presidential palace, he read out the letter he was sending to parliament requesting its permission to leave the country for treatment, Reuters news agency reports.
He did not say how long he would spend in Cuba.
The BBC's Sarah Grainger in Caracas says some people will be surprised by the president opting to go back to Cuba instead of staying at home for treatment.
But the strong bond he has with Cuba's former leader Fidel Castro, who first noticed he was not looking well, and his ability to recover away from the public eye may make Cuba a more compelling place for treatment, she says.
The National Assembly will discuss the president's request on Saturday morning and it is likely be approved, our correspondent says.
He has made several appearances on television this week - addressing troops, attending Mass and leading a Cabinet meeting - although his speeches have been shorter and he no longer makes them late into the night.
He told state television on Friday that he was waking up at 5am and reading the German philosopher Friedrich Nietzsche, AP news agency reports.
"I know there are people who are happy because they believe I'm dying, that I'm going to die soon," he said.
"But those evil wishes are part of that hatred... that is erased like a tsunami of love by the blessings and prayers of a nation, of millions."
His battle with cancer has raised questions over his ability to carry on as leader.
Officially, he still plans to run for re-election in late 2012.
During his 12 years in power, President Chavez has built up deep support among the poor by spending on social programmes
But there are growing problems, including high inflation, frequent electricity shortages and a lack of affordable housing.
Related Internet Links
The BBC is not responsible for the content of external sites.