Venezuela's Chavez back in Cuba for cancer treatment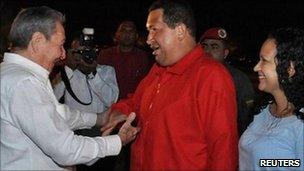 Venezuelan President Hugo Chavez is back in Cuba to undergo further treatment for cancer.
Doctors had found no more malignant cells after he had surgery to remove a tumour, he said.
Mr Chavez said his chemotherapy would start on Sunday and he would be away for a "few days".
He has delegated some presidential powers to his ministers but resisted opposition calls to hand over all powers during his absence.
Cuban television showed footage of Mr Chavez being met on arrival in Havana by Cuban President Raul Castro.
Boarding his plane in Caracas, President Chavez said he was in fighting spirit.
"Tomorrow I begin chemotherapy treatment, and we're going to give it everything we've got," he said.
"It's not time to die, it's time to live," he added.
He did not say how long the treatment would take, or whether there would be more trips to Cuba in the future, but said he was going away for a few days.
On Saturday, Venezuela's National Assembly had voted to allow Mr Chavez to return to Cuba to resume cancer treatment, including chemotherapy.
During a sometimes heated debate, opposition politicians had urged him to delegate the running of the country to his vice-president.
Mr Chavez dismissed the calls, saying he would "come back much better than I am right now".
But speaking during a televised cabinet meeting which followed, he announced he would - for the first time since he came to power 12 years ago - delegate some of his powers.
Vice-President Elias Jaua would oversee the expropriation of businesses and a number of budget-related duties while he was receiving treatment in Cuba, he announced.
He added that Finance Minister Jorge Giordani would also temporarily take on some additional duties.
The president said his decision had come as a result of "deep reflection" during his fight against cancer.
Since he returned from his first bout of treatment in Cuba on 4 July, the 56-year-old president has cut his workload on doctor's orders.
He has not given precise details of where the tumour was found, only that he was operated on in the pelvic region.
Some people will be surprised by the president opting to go back to Cuba instead of staying at home for treatment, says the BBC's Sarah Grainger in Caracas.
But the strong bond he has with Cuba's former leader Fidel Castro, who first noticed he was not looking well, and his ability to recover away from the public eye may make Cuba a more compelling place for treatment, adds our correspondent.
He has made several recent appearances on television - addressing troops, attending Mass and leading a Cabinet meeting - although his speeches have been shorter and he no longer makes them late into the night.
Officially, he still plans to run for re-election in late 2012.
During his 12 years in power, Mr Chavez has built up deep support among the poor by spending on social programmes. But there are growing problems, including high inflation, frequent electricity shortages and a lack of affordable housing.
Related Internet Links
The BBC is not responsible for the content of external sites.