Iran 'to co-operate' over Argentina Jewish centre bomb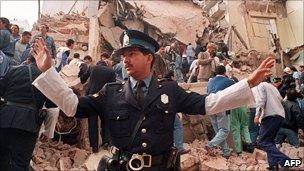 Iran says it is ready to co-operate with Argentina over the 1994 bombing of a Jewish community centre in the Argentine capital, Buenos Aires.
Argentina has blamed Iran for the attack, in which 85 people died.
The Iranian Foreign Ministry denied any involvement and said it would help Argentina with its investigation, which it said "was going down the wrong way".
Argentina said that it would publish a report into the attack within days.
Tehran said it was "ready for a constructive dialogue and to co-operate with the Argentine government to shed all possible light" on the case.
In a statement published by the state news agency Irna, Iran's foreign ministry condemned the attack and sent its sympathies to the victims.
Argentina has issued arrest warrants for several Iranian nationals and a Lebanese national in connection with the bombing.
One of those wanted is Iranian Defence Minister Gen Ahmad Vahidi.
At the time of the attack, Gen Vahidi was the commander of a special unit of Iran's Revolutionary Guard known as the Quds Force.
Argentine President Cristina Fernandez de Kirchner has repeatedly demanded the extradition of Gen Vahidi and the other Iranian officials accused of involvement in the attack.
The car bomb at the Jewish Argentine Mutual Association (AMIA), which wounded more than 200, was one of two attacks targeting Argentina's 200,000-strong Jewish community in the 1990s.
The 1992 bombing of the Israeli Embassy in Buenos Aires also remains unsolved.
Argentine, US and Israeli officials have all said that Iran was behind the two bombings, a charge Tehran vehemently denies.
Related Internet Links
The BBC is not responsible for the content of external sites.