Champions Brazil beaten by Paraguay in Copa America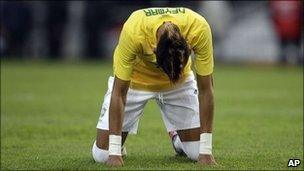 Brazil has crashed out of the Copa America after Paraguay held their nerve in a disappointing quarter-final.
The defending champions failed to score a single penalty in the shoot-out, which Paraguay won 2-0.
The match and extra time finished goalless after one player from each side was sent off following a fracas in the 13th minute.
Brazil's defeat came a day after the hosts Argentina also lost on penalties at the quarter-final stage.
The Brazilian coach, Mano Menezes defended his team's performance:
"You need more than will to win matches, you need goals and all Brazil lacked was goals," he said.
Even the Paraguay captain, Justo Villar, who excelled in goal, admitted his players had been fortunate to get the better of a Brazil team who often dominated play during the match:
"It was a match dominated almost entirely by Brazil," said Villar. "We had to take refuge a lot of the time at the back and well, the penalties are a lottery which we took well and they failed with theirs."
But the defeat for Brazil, who had won four of the last five tournaments, drew stinging criticism from Brazilians back home.
One typical comment on the O Globo newspaper website described it as the "worst football I've seen in the past few decades".
In the competition's semi-finals, Paraguay will face Venezuela in Mendoza on Wednesday, after Uruguay, on course for a record 15th title, play Peru in La Plata on Tuesday.