Ecuador bans alcohol after 21 die from bootleg liquor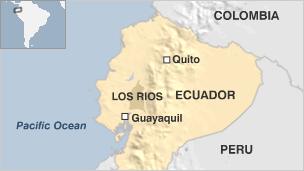 Ecuador has banned the sale and consumption of alcohol for three days after 21 people died as a result of drinking adulterated liquor.
Most of the deaths have been in Los Rios province, where a dry law was imposed over the weekend.
Police seized 28 containers in Los Rios and some contained methanol, a toxic alcohol, officials said.
Officials decided to extend the ban nationwide amid reports of bootleg liquor in other provinces.
Public Health Minister David Chiriboga urged people to seek help if they started feeling nausea or were vomiting.
Other symptoms could include abdominal pain, blurred vision or difficulty in breathing, he said.
Mr Chiriboga said 28 barrels, each with a volume of 55 gallons (208 litres), had been confiscated and some had been found to contain methanol, also known as methyl alcohol.
Police have so far made one arrest, the Spanish news agency Efe reported.
Authorities on Sunday extended the dry law nationally and imposed a state of exception for 72 hours.
The measure was to allow police and the armed forces to mobilise in order to check for and confiscate bootleg alcohol, officials said.
Related Internet Links
The BBC is not responsible for the content of external sites.