US woman caught 'smuggling ammunition into Mexico'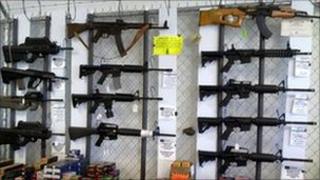 A US woman has been arrested at the Mexican border for allegedly trying to smuggle 3,500 rounds of ammunition.
Security officials said Gwendolyn Marrufo Sanchez had hidden the ammunition under tins of food in a shopping bag on wheels.
The soldiers said they had become suspicious when they noticed the extreme weight of the trolley.
They said she confessed to planning to sell the cartridges in Ciudad Juarez, Mexico's most violent city.
Ms Marrufo Sanchez was crossing into Mexico at the Ciudad Juarez border post on a public bus from El Paso, Texas, when soldiers conducted a routine search.
Under some clothes and tinned food, they found 50 boxes of cartridges for AK-47 rifles and 45 boxes of ammunition for various calibre weapons.
She is being held at a detention centre in northern Chihuahua state.
Mexican President Felipe Calderon has repeatedly urged the US government to tighten laws regulating the sale of guns and ammunition in the US to prevent high-powered weapons being smuggled into Mexico.
In June, a US Congressional report suggested some 70% of firearms recovered from Mexican crime scenes in 2009 and 2010 and submitted for tracing came from the US.