Argentina oil refinery blast kills one worker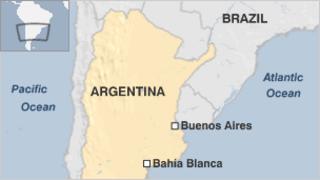 An explosion at an oil refinery in Argentina has killed one worker and injured another, police say.
The blast happened about 01:00 local time (04:00 GMT) at a plant near Bahia Blanca, some 600km (370 miles) south-west of Buenos Aires.
Officials ordered a temporary shutdown of operations while an investigation was under way.
The refinery is run by the Argentine subsidiary of Brazil's state oil company Petrobras.
The blast happened in a rest room at the plant, which is located on the outskirts of Bahia Blanca, police officers told the state news agency Telam.
The injured man was taken to the local hospital in Bahia Blanca, suffering burns, police said.