US warning over strengthening Hurricane Irene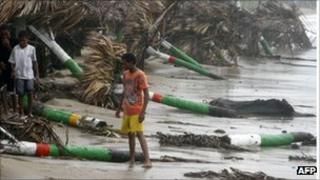 US officials have warned the entire US east coast should be ready for the possible arrival of Hurricane Irene.
Now a category 2 storm heading over the Turks and Caicos Islands and south-eastern Bahamas, it may intensify to a category 4 as it nears the east coast.
But forecasters have cautioned that it is too early to predict the storm's exact path or place of impact.
Irene brought heavy downpours as it swept over the Dominican Republic where 1,000 people sought refuge in shelters.
Hurricane Irene is on a projected path to reach the US by the end of the week, possibly making landfall in Georgia, South Carolina or North Carolina.
'Larger than average'
In Puerto Rico, where US President Barack Obama declared an emergency - making it eligible for federal help - the storm knocked out power to more than half the island and affected the water supplies of more than 100,000 people.
The storm, the first hurricane of the Atlantic season, currently has maximum sustained winds of 100mph (160km/h).
But if Irene increases to a category 4 storm it could reach speeds of 131mph.
"Irene is forecast to become a larger-than-average hurricane," the US National Hurricane Center (NHC) in Miami said.
The hurricane was expected to be near the Turks and Caicos Islands and the south-eastern Bahamas by Tuesday night, forecasters said.
The NHC warned "an extremely dangerous" storm surge could raise water levels by as much as 9 to 13ft (3 to 4m) on the low-lying islands.
Irene was likely to strengthen further and could become a major hurricane within the next 72 hours as it moved over warm sea waters, they added.
"We didn't anticipate it gaining this much strength this early," meteorologist Chris Landsea told the Associated Press.
Bad memories
By 08:00 local time (12:00 GMT), Irene had top winds of 100mph and was 55 miles northeast of Puerto Plata, Dominican Republic, and 70 miles south-southeast of Grand Turk Island.
On Monday, Irene knocked out power to more than half the island of Puerto Rico and affected water supplies to more than 100,000 people.
Emergency preparations were stepped up in Haiti by United Nations agencies operating there.
The country, which suffers from extensive deforestation and poor infrastructure, is particularly vulnerable to heavy rainfall.
Hundreds of thousands of people still live in makeshift camps after the January 2010 earthquake.
In the UK overseas territory of the Turks and Caicos Islands, people have been trying to reinforce windows and doors, as well as stocking up on supplies.
On Grand Turk, where Hurricane Ike caused devastation in September 2008, resident Peter White told AP he was taking no chances.
"We've loaded up on water and rations, and our shutters are ready to go up. Bad memories of Ike are a big reason why we get so prepared now."