Bolivian Mennonites jailed for serial rapes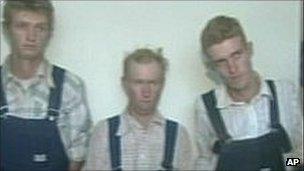 A court in Bolivia has sentenced seven members of a reclusive conservative Christian group to 25 years in prison for raping more than 100 women.
The men, members of a Mennonite group, secretly sedated their victims before the sex attacks.
The victims' lawyer said the 2000-strong Mennonite community where the rapes happened welcomed the sentence.
The group follows a strict moral code and rejects modern inventions such as cars and electricity.
An eighth man was sentenced to 12-and-a-half years for supplying the sedative used to drug the women.
The rapes happened in the Mennonite community of Manitoba, 150km (93 miles) north-east of the city of Santa Cruz.
The court heard that the men sprayed a substance derived from the belladonna plant normally used to anaesthetise cows through bedroom windows at night, sedating entire families.
They then raped the women and girls. The youngest victim was nine years old.
The exact number of those raped is not clear. Some women had no recollection of being raped, while others feared being ostracised in the deeply conservative community, lawyer Oswaldo Rivera said.
Mr Rivera said almost 150 had taken part in the trial, but he feared there could be another 150 too ashamed to give evidence.
He said some feared they would not be able to find a husband if it was known they had been raped, as women are expected to abstain from sex until marriage.
Prosecutor Freddy Perez said colony elders suspected something was wrong when they wondered why one man was getting up so late in the mornings, and they decided to shadow him.
He was then spotted jumping through a window into one of the victim's houses.
The BBC's Mattia Cabitza in Santa Cruz said it proved difficult to gather evidence from the victims because of the community's isolation and patriarchal structure.
The convicted men were also accused of threatening the fathers of some of the victims not to speak out.
Many of the victims speak only low German, the language of the Mennonite founding fathers, and have never learned Spanish.
There are some 30-40,000 Mennonites in Paraguay and Bolivia.
While many of them are indistinguishable from their neighbours and have religious beliefs very similar to mainline Protestant and Evangelical groups, others reject modern life and live in isolated communities.
Manitoba Colony, where the rapes happened, is an ultra-conservative community, with no paved roads or electricity.
Its members move around by horse-drawn buggy and dress in traditional Mennonite dress.
Mr Rivera welcomed the sentences but said he feared some of the women had suffered irreversible damage.