Chile mourns as search continues for air crash bodies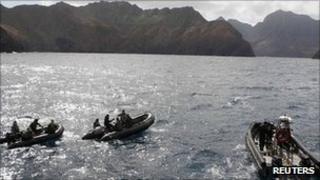 Chile is holding two days of mourning for the victims of last Friday's air crash, as officials warn that not all the 21 victims may be found.
Defence Minister Andres Allamand said the plane was believed to have broken up on impact in the Pacific Ocean, making the search more difficult.
Four bodies have been recovered so far.
Those on board included one of Chile's leading TV personalities, Felipe Camiroaga, and the defence minister's own brother-in-law, Felipe Cubillos.
On Sunday, President Sebastian Pinera declared two days of national mourning.
This would be "a way to express our solidarity with the families of the victims and express the sorrow that has taken hold of the entire country", the president said.
The Casa-212 turboprop plane twice tried to land at the airport on the Juan Fernandez islands, some 670km (415 miles) off the Chilean coast, in windy conditions on Friday afternoon.
Mr Allamand said that everyone on board would have died instantly.
The minister, speaking from Robinson Crusoe island in the archipelago, said the condition of the remains recovered so far supported the view that the plane had disintegrated.
People must be prepared for the possibility that not all the bodies would be found, he said, but he promised that the search would go on.
The Juan Fernandez islands are thought to have inspired the setting for Daniel Defoe's classic shipwreck novel Robinson Crusoe.