US sanctions Venezuelans for alleged Farc links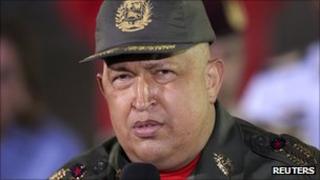 The US has accused four close allies of Venezuelan President Hugo Chavez of helping Colombia's Farc rebels.
The four - an army general, an intelligence officer and two politicians - have been put a US Treasury list of people subject to sanctions.
All are accused of helping the Colombian rebels smuggle cocaine and procure weapons.
The Venezuelan government has condemned the US measure as an act of aggression.
The sanctions were announced by the US Treasury's Office of Foreign Assets Control (OFAC).
'Narco-terrorists'
"Today's action exposes four Venezuelan government officials as key facilitators of arms, security, training and other assistance in support of the Farc's operations in Venezuela," said OFAC director Adam Szubin.
"OFAC will continue to aggressively target the Farc's support structures in Venezuela and throughout the region," he added.
The four Venezuelan officials are all accused of acting on behalf of the Farc, which the US regards as a "narco-terrorist" organisation. They are:
Amilcar Figueroa Salazar, 57, a member of Venezuela's delegation to the Latin American Parliament
Gen. Cliver Alcala Cordones, 49, who commands the Venezuelan army's 4th Armoured Division
Freddy Bernal Rosales, 49, a congressman and former mayor of a district of Caracas
Ramon Madriz Moreno, 54, a Venezuelan intelligence officer
Venezuelan Foreign Minister Nicolas Maduro dismissed the US accusations as "abusive" and said he would consider issuing a formal note of protest.
"This is part of the agenda of permanent aggression against Venezuela," he told the Associated Press.
Mr Maduro rejected what he called the US pretension to become "some kind of world policeman to judge decent citizens of our country".
Denial
Freddy Bernal also rejected the accusations as "an aggression" against Venezuela.
"If they hope to frighten me with their gringo list, now more than ever I kneel down for Chavez and the revolution," he tweeted.
The US has frequently accused Venezuela's left-wing government of supporting Colombia's Farc rebels and failing to combat cocaine trafficking.
Venezuela denies the accusations, and in recent years has arrested a number of top drug traffickers.
Just yesterday Venezuelan officials announced the completion of a major operation to eradicate coca plantations and destroy drugs labs along the border with Colombia.
Lat year Venezuela's relations with Colombia broke down over accusations by the then-President of Colombia, Alvaro Uribe, that Venezuela was giving refuge to Farc guerrillas.
But relations have improved under President Juan Manuel Santos, who took office in August 2010.
Venezuela has handed over Farc suspects to Colombia, and in April Mr Santos said Venezuela was no longer harbouring the Farc.
President Chavez is a staunch critic of US "imperialism" and has frequently accused Washington of backing a coup attempt against him.
In 2008 the US Treasury imposed similar sanctions on a Venezuelan minister and two intelligence officials, also for alleged links with the Farc.