Leopoldo Lopez launches Venezuela presidential bid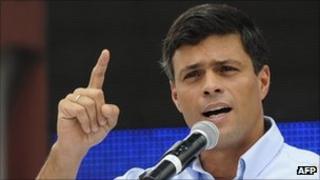 Venezuelan opposition politician Leopoldo Lopez has launched his campaign to challenge President Hugo Chavez in elections next year.
It comes a week after the Inter-American Court of Human Rights (IACHR) ordered Venezuela to allow him to run.
Addressing thousands of supporters in the capital Caracas, Mr Lopez urged President Chavez to accept the ruling.
Mr Lopez had been banned from public office because of corruption allegations.
President Chavez has criticised the IACHR ruling, and Venezuelan election officials say they will wait for a judgement from the supreme court on whether he should be allowed to stand.
Afraid?
At the rally in Caracas, Mr Lopez accused Mr Chavez of "hiding behind" public institutions.
"Is it true what they are saying all over Venezuela, that you are afraid of me?" he asked.
He said his main priorities would be to tackle violent crime and reduce unemployment.
Mr Lopez, 40, is one of several contenders for a primary election in February, when Venezuela's main opposition alliance will choose a unity candidate to challenge President Chavez on 7 October 2012.
A former mayor of the Chacao district of Caracas, he was banned from public office in 2004 by the comptroller-general's office over two separate allegations of financial wrongdoing.
He has denied the allegations, and has never been convicted in court.
Challenge
Whoever wins the opposition nomination faces a tough challenge to defeat President Chavez, who has governed Venezuela since 1999, winning repeated election victories.
The left-wing leader has said he is determined to win another term in office, despite having surgery for cancer in June.
He says he is now recovering his health after four courses of chemotherapy.
But secrecy about the exact nature and extent of his cancer has fuelled continuing speculation about whether he will be well enough to campaign.
Parliamentary elections last year showed Venezuelan voters evenly divided between support for Mr Chavez's socialists and the opposition.
Among the other candidates seeking the opposition nomination in February's primary are state governors Henrique Capriles Radonski and Pablo Perez.