Mexican drug lord Joaquin Guzman's wife has twins in US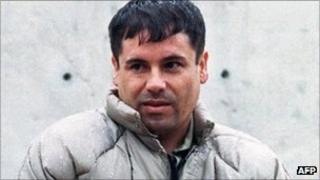 The wife of Mexico's most wanted drug baron, Joaquin Guzman, has given birth to twin girls at a hospital in the US.
Emma Coronel had her daughters at Antelope Valley Hospital in northern Los Angeles on 15 August, the Los Angeles Times reported.
Joaquin "El Chapo" Guzman is the head of Mexico's most powerful drug-trafficking gang, the Sinaloa cartel.
Ms Coronel, a former beauty queen who holds US citizenship, returned to Mexico after the twins were born.
By being born in California, the children will also have US citizenship.
Birth certificates listed 22-year-old Ms Coronel as the mother of the girls, but the spaces for the father's name were left blank, said the LA Times.
US law enforcement officials, who tracked her movements even before she travelled to the hospital in Lancaster in mid-July, said she was not arrested because there were no charges against her.
'Shorty'
Ms Coronel is believed to be the third or fourth wife of Guzman, the 54-year-old multibillionaire.
The couple married on her eighteenth birthday at a lavish wedding in the highlands of central Mexico in 2007.
The US authorities have placed a $5m (£3.25m) bounty on Guzman's head, alleging that he and his cartel control the majority of cocaine and marijuana trafficked into the US from Mexico and Colombia.
Guzman's nickname El Chapo means Shorty - he is about 5ft 6 in (1.67m) tall.
Guzman made Forbes magazine's list of the 67 World's Most Powerful People two years ago. At number 41, he was just below Iran's Supreme Leader Ayatollah Ali Khamenei.