Man arrested over Ecuador bootleg alcohol deaths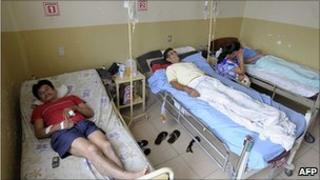 Police in Ecuador have arrested a man they accuse of manufacturing and distributing some of the contaminated liquor which has killed 51 people.
Jaime Ullrich Hidalgo is the owner of Tentadora winery in central Tungurahua province, where 11 people died of methanol poisoning.
He denies being linked to the production of the adulterated alcohol.
The manager of another Ecuadorean winery is already in custody, also accused of producing poisonous alcohol.
Officials say 771 people have been taken to hospital with alcohol poisoning. Of those, 306 were confirmed to have ingested the adulterated liquor.
Symptoms include nausea and vomiting, as well as abdominal pain, blurred vision and difficulty breathing.
Police have seized 200,000 litres of the poisonous mixture.
The BBC's Irene Caselli in Quito says Ecuador has a tradition of bootleg liquors made out of sugar cane, called puntas and often sold without undergoing any screening.
According to Ecuador's Association of Alcohol Manufacturers, at least half of what Ecuadoreans consume comes from illegal outfits without the correct health certificates.
Industry insiders say there is little control over product certification related to food, drinks and medicine in Ecuador.