Cuba President Raul Castro seeks term limits on leaders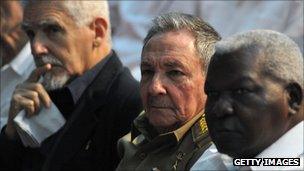 The Communist Party of Cuba has announced that it will consider President Raul Castro's unprecedented call for term limits for all government officials.
A statement said the party conference in January would discuss a maximum of two five-year terms.
The document also called for the promotion of qualified young leaders.
Earlier this year, President Castro said Cuba must prepare a new generation to take over.
Raul Castro, who is now 80, said the same limits would apply to him.
He took over from his brother, Fidel, in 2008. Between them, they have ruled Cuba for 52 years since 1959.
The statement on the proposal for term limits will be discussed at party meetings in the coming months.
It said the aim was to achieve a "gradual renewal in leadership".
The proposal also spoke of a need to promote racial and gender diversity in positions of responsibility.
However, it reaffirmed the Communist Party's position as the only one allowed in Cuba.
The document also warned that the government's foreign enemies were "lurking and waiting to pounce".
"The imperialists pin their hopes on the supposed vulnerability of the new generations... They try to foment division, apathy, dismay... and a lack of confidence in the leadership of the revolution and the party," it said.
President Castro raised the issue in April at the start of the first congress of Cuba's ruling Communist Party for 14 years.
He said the party leadership was in need of renewal and should subject itself to severe self-criticism.
In his speech then, Raul Castro said the limit of two consecutive five-year terms would apply to "the current president of the Council of State and his ministers" - a reference to himself.
The proposal is unprecedented under Cuban communism.