Andrew Holness to become next Jamaican prime minister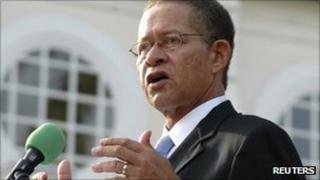 Jamaica's Education Minister Andrew Holness is to replace Bruce Golding as prime minister, Mr Golding has said.
Mr Golding said he would step down on Sunday and Mr Holness would be sworn in as prime minister the same day.
Mr Golding announced last month that he would resign once the ruling Jamaica Labour Party had chosen a new leader - who automatically becomes PM.
He has said his handling of a US request to extradite a gang leader was a key factor in his decision to resign.
The Jamaican government resisted US requests to extradite Christopher "Dudus" Coke for nine months before launching an operation to capture him in which scores died.
Once Mr Holness is sworn in on Sunday, he will become Jamaica's youngest prime minister, at 39 years of age.