Hurricane Rina downgraded to tropical storm near Cancun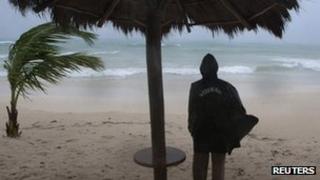 Hurricane Rina has been downgraded to a tropical storm as it is passed near Mexico's Caribbean coast, lashing key tourist resorts with wind and rain.
Despite weakening, Rina brought winds of up to 95km/h (60mph) as it moved north, the US National Hurricane Center (NHC) said.
Thousands have been evacuated from Cancun and other resorts on the eastern Yucatan peninsula since Tuesday.
The storm was expected to move inland and weaken further later on Friday.
Rina has caused travel chaos in Cancun. Hundreds of passengers flocked to the airport on Wednesday trying to leave, and 90 flights cancelled on Thursday.
Most schools in the region have closed as a precaution.
More than 4,000 residents and visitors were evacuated from the low-lying islands of Isla Mujeres and Holbox, which are prone to flooding.
The head of Mexico's West Coast National Marine Park, Jaime Gonzalez, said the storm would likely erode Cancun's famous white-sand beaches, which have been rebuilt twice since they were devastated by Hurricane Wilma in 2005.