Brazil ex-president Lula's cancer chances 'very good'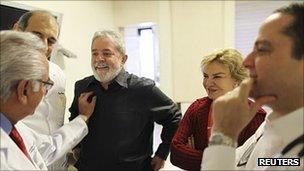 Former Brazilian President Luiz Inacio Lula da Silva has started his chemotherapy treatment for throat cancer, with doctors saying his chances of being cured are "very good".
The cancer is in its early stages and has not spread to other areas.
The treatment is expected to last four months and is likely to cause Lula to lose his hair and trademark beard.
Lula, 66, stepped down last year after two terms as president with record approval ratings.
His diagnosis of cancer last weekend shocked Brazil, where he remains a very influential political figure.
Tests showed the tumour on his larynx was not abnormal and should respond well to chemotherapy and radiotherapy, doctors treating him at the Sirio-Libanes Hospital in Sao Paulo said.
"The outlook is very good," said his personal doctor, Roberto Kalil Filho.
"He is in extremely good humour and confident and that is fundamental for the success of any treatment," he added.
Lula was elected Brazil's president in 2002, the country's first leftwing leader in half a century, and won a second term in 2006.
In December 2010 he was succeeded by his former chief-of-staff, Dilma Rousseff.
Brazil's constitution prohibits a third consecutive presidential term, but there had been speculation that he might stand again in 2014 if Ms Rousseff decided not to seek re-election.
A former union leader, Lula presided over a period of strong economic growth in Brazil during which more than 20 million people were lifted out of poverty.
Lula is a former smoker and is widely known as a drinker - two habits thought to increase the chances of throat cancer.