Ex-general Otto Perez Molina wins Guatemala election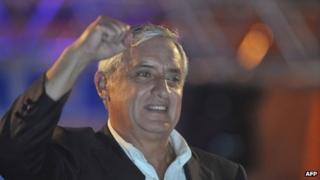 Former army general Otto Perez Molina, who vowed to pursue a hard line against violent crime, has won Guatemala's presidential run-off election on Sunday.
Mr Perez Molina won some 54% of the vote, with his rival, Manuel Baldizon, on 46%, electoral officials said.
Both candidates had promised to tackle growing insecurity and the presence of Mexican drug gangs in the country.
Guatemala is a key transit point for drugs from South America to the US.
'Peace and security'
Mr Perez Molina, candidate of the right-wing Patriotic Party, will be the first former military leader to occupy the presidency since Guatemala restored democracy in 1986.
"We're going to fight very hard to bring peace, security, work opportunities and rural development," he said in a victory speech late on Sunday.
His comments touched on two key issues facing Guatemala: rising insecurity and endemic poverty.
He has promised to hire 10,000 new police officers and deploy 2,500 more soldiers as part of his tough stance on crime.
Mr Perez Molina, 60, was regarded as the favourite after coming out on top in the first round against 41-year-old Mr Baldizon, who leads the Renewed Democratic Liberty party (Lider).
Painful past
Critics say Mr Perez Molina's record is tarnished by his time in the army - with rights groups accusing him of abuses as commander of troops during Guatemala's civil war.
Mr Perez Molina, who retired from the army 11 years ago, says there is no evidence to substantiate the claim.
Guatemala's 36-year conflict, in which more than 200,000 people are believed to have been killed, came to an end in 1996.
Despite Guatemala's painful and violent recent past, Mr Perez Molina was able to persuade voters he was the best leader to reduce the country's high murder rate, correspondents say.
According to UN figures, Guatemala has a rate of some 41 murders per 100,000 - some eight times that of the US.
Mr Perez Molina narrowly lost four years ago to the current president, Alvaro Colom, who is constitutionally limited to one term.
President Colom has sent troops to some provinces where the Mexican Zetas drug gang have a strong presence, including Mr Baldizon's home state of Peten.