Brazil police arrest alleged drug chief of Rocinha slum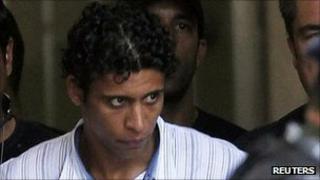 Brazilian police have arrested the alleged head of drug-trafficking in Rio de Janeiro's biggest slum, Rocinha, as he was apparently trying to flee.
Antonio Francisco Bonfim Lopes was found in the boot of a car that had left Rocinha, Brazilian media reported.
His arrest came as police prepared an operation to take control of Rocinha.
Since 2008, police have been occupying shantytowns to oust drug gangs in a bid to make Rio safer ahead of the 2014 World Cup and 2016 Olympics.
The suspected drug chief, widely known as Nem, was arrested after police stopped a car at a checkpoint close to Rocinha.
'Historic moment'
The driver of the vehicle tried to claim diplomatic immunity, saying he was the honorary consul of the Democratic Republic of Congo, police said.
He then offered a bribe worth $570,000 (£358,000), they added, but officers refused and opened the boot to discover the hidden suspect.
"It's a historic moment in the fight against drug-trafficking in Rio de Janeiro," said Jose Mariano Beltrame, Rio's state security secretary.
During Wednesday, some residents of Rocinha left the area, ahead of the expected security operation to crack down on the traffickers.
Police have been setting up checkpoints at entrances to the slum district - or favela - which is located close to tourist areas in Rio's south zone.
They say they plan to move into the area in the coming days.
Rocinha is home to some 70,000 people, according to the last census figures, but is widely thought to have considerably more residents.
To date, police have occupied some 20 favelas to drive out the dealers who controlled the areas.
Special forces, known as BOPE, move in to take on the traffickers. Police then establish a permanent base in the favela with officers trained in community policing.
City officials also move in to provide services such as health care and electricity.
Pacification has been generally welcomed in favelas, where residents have seen a drop in crime.
But there have been complaints about the behaviour of some of the troops and police involved, with local people reporting excessive violence or abuse of authority.