Brazil's Lula da Silva shaves beard in cancer battle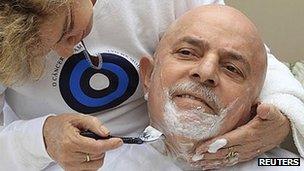 Former Brazilian President Luiz Inacio Lula da Silva has had his hair and trademark beard shaved off as he battles throat cancer.
Lula was shaved by his wife Marisa Leticia ahead of his next round of chemotherapy, which can make a patient's hair fall out.
Pictures released by the former leader's press office show him bald and beardless - but still with a moustache.
His doctors have said his chances of recovery from cancer are "very good".
He has already completed a first chemotherapy session without complications and is due to have three more by the end of the year before beginning radiation therapy.
Lula, 66, stepped down last year after two terms as president with record approval ratings.
His diagnosis of cancer last month shocked Brazil, where he remains a very influential political figure.
Lula is a former smoker - a habit thought to increase the chances of throat cancer.
Related Internet Links
The BBC is not responsible for the content of external sites.