Venezuela extends price controls to tackle inflation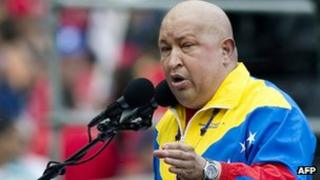 Venezuela is introducing more price controls in a bid to tackle inflation, on course to be be 27% this year.
The prices of 18 products, including soap and shampoo, are being frozen with immediate effect while other sectors will be examined in the coming months.
Firms, including multinationals like Colgate and Pepsi-Cola, will have to report production costs so officials can set what is deemed a fair price.
President Hugo Chavez said the aim was to "protect people from capitalism".
Under the price control law, officials will set prices after taking into account production costs including raw materials and wages.
Price controls were first introduced in 2003 and staples like cooking oil and rice are currently regulated.
The law widens the number of goods being monitored, including fruit juice and mineral water, as well as cleaning products such as detergent.
Toilet paper, toothpaste and disposable nappies are among toiletries and personal items on the price control list.
In a television call to state television, President Chavez urged the Venezuelan people to keep an eye on prices, mentioning several international companies by name.
"The market has... become a perverse mechanism where the big monopolies, the big trans-nationals and the bourgeoisie dominate and ransack the people," he said.
Among the multinationals operating in Venezuela, Proctor and Gamble said it was evaluating the measures and would continue to serve Venezuelan customers "to the best of our abilities", spokesman Paul Fox told the Bloomberg news website.
Business leaders have expressed concern that more regulations will cut investment and exacerbate shortages of products in high demand.
The authorities say companies are guilty of charging too much and controls are needed to end speculation.
High levels of public spending and currency controls are among the factors contributing to inflation, analysts say.
President Chavez, who has been treated for cancer, is set to stand for re-election in October next year.