Trinidad PM Persad-Bissessar: Assassination plot foiled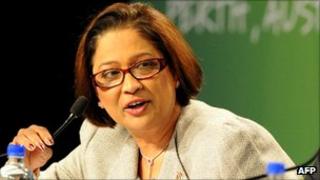 Trinidad and Tobago Prime Minister Kamla Persad-Bissessar says police have thwarted a plot to assassinate her and members of her cabinet.
A dozen people have been arrested, including members of the army and police, officials said.
Ms Persad-Bissessar blamed the alleged plot on "criminal elements" acting in "reprisal" for a state of emergency she declared in August.
She said her government was in control, with the security forces on full alert.
'Treason'
Police and government officials in the Caribbean nation have released few details of the alleged plot, saying they did not want to jeopardise ongoing investigations.
In an address to the nation, Ms Persad-Bissessar condemned the alleged conspiracy against her and several members of her government as "an evil, devious act of treason".
She linked the security threat to the state of emergency she declared in August to counter a surge in violent crime linked to drugs gangs.
She said she was not surprised that "criminal elements" were bent on "reprisals".
But the prime minister said the threat would not deter her government from pursuing its campaign against crime and insecurity.
Ms Persad-Bissessar said the state of emergency, which gives the security forces sweeping powers to make arrests, was working.
She said more than 7,000 people had been arrested and large quantities of drugs and firearms seized.
She also reminded Trinidadians of a coup attempt in 1990, when a local Islamist group tried to overthrow the government.
The state of emergency is due to be reviewed in December.
Government critics have voiced scepticism, saying the authorities might use the reported plot to justify extending the measure.
"We have no evidence of this so-called assassination plot," Vincent Cabrera, head of the Banking, Insurance and General Workers Union, told the AFP news agency.