Mexican poll contender Pena Nieto falters at book event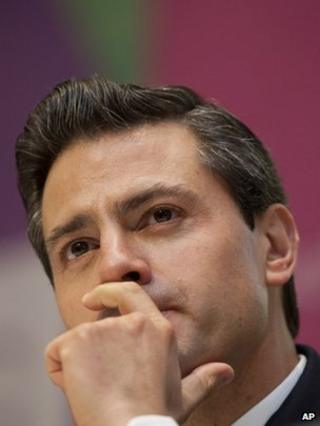 Mexico's leading presidential contender Enrique Pena Nieto gave new ammunition to his critics this weekend.
Asked to name three books that had had an impact on him, he floundered before saying that, as an adolescent, he had been influenced by the Bible.
Political opponents have often accused Mr Pena Nieto - a handsome and telegenic politician married to a television actress - of being "hollow".
He holds a comfortable lead in polls ahead of July's presidential election.
The former Mexico State governor has become the best hope for Mexico's Institutional Revolutionary Party (PRI) to win the presidency it held for more than 70 uninterrupted years until 2000, analysts say.
Twitter response
At a book fair in Guadalajara, Mr Pena Nieto, 45, was asked by a member of the audience about his reading record. For minutes he hesitated, before mentioning that he had read "parts of" the Bible.
He then rambled on, confusing titles, forgetting the names of authors and sometimes mismatching them.
He said he liked a novel by Enrique Krauze called The Eagle's Throne (La Silla del Aguila), only to be reminded that it had been written by Carlos Fuentes.
Looking helpless, Mr Pena Nieto conceded that he could not remember titles.
"I have read a number of books, starting with novels, that I have liked," he said. "I have had a hard time recalling the titles."
Later, Mr Pena Nieto apologised and thanked all his critics, who had made fun of him, saying freedom of expression is a central pillar of democracy.
"Criticism of those of us who aspire to or hold political office is fundamental," he wrote on Twitter.
Intellectuals like Lorenzo Meyer told a local radio station that, although everybody sometimes forgot titles and authors, "a deep knowledge of Mexican history was fundamental for anyone who wanted to be president".