El Salvador sorry for El Mozote massacre in 1981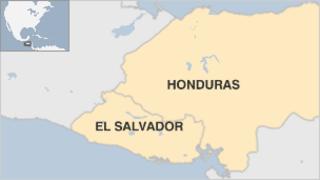 El Salvador's government has apologised for the 1981 massacre of more than 1,000 people in the town of El Mozote.
The victims - nearly half of them children - were executed by soldiers of a now banned battalion, the Atlacatl.
They were accused of collaborating with leftist guerrillas and killed in cold blood near the border with Honduras.
At a ceremony in the town, Salvadorean Foreign Minister Hugo Martinez asked forgiveness for what he called the "blindness of state violence".
"This event seeks to honour the memory of hundreds of innocent people who were murdered 30 years ago here in El Mozote and in nearby towns," said Mr Martinez.
Amnesty
The killings were committed by Salvadorean troops fighting left-wing guerrillas. But those responsible were never put on trial as the authorities agreed a general amnesty in 1992, as part of negotiations to end the civil war.
Activists say they are still waiting for justice, and hope the case will be taken up next year by the Inter-American Court of Human Rights.
More than 70,000 people died during El Salvador's civil war from 1980 to 1992.
The country is now governed by the leftist Farabundo Marti National Liberation Front (FMNLR), a coalition of former guerrilla groups that won the country's election in 2009.