Mexico disbands Veracruz-Boca del Rio police force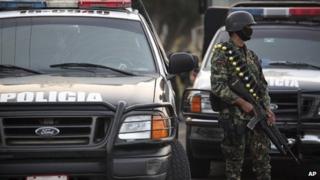 An entire municipal police force in Mexico has been disbanded as part of a campaign to root out corruption and improve security in the face of drug-related violence.
More than 900 officers in Veracruz-Boca del Rio are losing their jobs.
The Mexican navy is taking over responsibility for law enforcement.
The move comes three months after 35 bodies were found dumped on a main road in the municipality, which includes part of the city of Veracruz.
Navy troops backed by federal police officers took control of local police buildings and were patrolling the streets.
Veracruz state governor Javier Duarte said the decision to disband the force was part of a national programme to reform the police.
"All those who belong to the now defunct Veracruz-Boca del Rio force can join the police again once they have passed the tests of trustworthiness demanded by the national system of public security," he said.
He did not say how long the navy would be in charge of policing the municipality, which is home to around 600,000 people and includes wealthy residential districts and popular tourist areas.
Hundreds of marines had already been deployed in Veracruz-Boca del Rio after 35 bodies were dumped on busy road in the middle of the day in September.
Two weeks later the navy found another 32 bodies in three different buildings.
The killings are thought to be the result of a battle for control of drug-trafficking routes between two of Mexico's most powerful drugs gangs - the Zetas and the Gulf Cartel.
The armed forces and federal police have taken over security in a growing number of municipalities across Mexico because local police have been unable to cope with the power of the drugs gangs.
Corruption and infiltration of the police by criminals are among the biggest challenges Mexico faces in its fight against the cartels, says the BBC's Ignacio de los Reyes in Mexico City.
As well as using troops to confront the gangs militarily, President Felipe Calderon has stressed the need to reform the police and judiciary as part of his strategy to restore public security.
More than 40,000 people have been killed in drug-related violence in Mexico since December 2006, when Mr Calderon began deploying the military to fight the gangs.