Colombia troops jailed for 'false positive' murders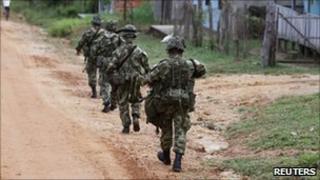 Fifteen Colombian soldiers have been given long jail sentences for the murder of five young men in 2006.
The soldiers claimed the youths were armed militants killed in a firefight.
But an official investigation established they were members of a football team travelling to a match.
Colombian prosecutors are investigating more than 1,500 cases in which troops are accused of murdering civilians and passing them off as rebels killed in combat.
Soldiers are accused of carrying out the killings to improve their success rate in the fight against left-wing guerrillas and criminal gangs and to win accolades and rewards, in what has become known as the "false positive" scandal.
This latest case happened in a rural district outside Ibague in the Tolima region in central Colombia.
The youths were killed by members of the army's elite anti-kidnap squad.
The leader of the army patrol, Major Jose Wilson Camargo, was given a 26-year jail sentence.
The other 14 soldiers were each sentenced to 25 years.
"Today we can't say we are happy because it has been five years of struggle, but we are more calm because justice is being done," a relative of one of the victims who asked not to be named told El Tiempo newspaper.
Civilians have been the main victims in the decades-long conflict between the Colombian security forces, the left-wing rebels of the Farc and the ELN, and right-wing paramilitary groups.