US Peace Corps cuts Honduras role amid security fears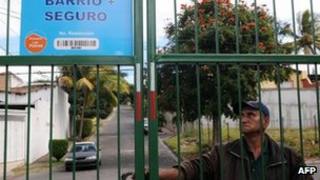 The US Peace Corps is pulling out of Honduras amid concerns over rising violence linked to organised crime.
The corps said it would withdraw its 158 volunteers from Honduras in January while it reviewed the security situation.
Training for new volunteers is also being halted in El Salvador and Guatemala.
Central America has seen a rise in drug-related violence, largely blamed on the presence of Mexican cartels.
The region is a key staging point for trafficking drugs from South America to the US market.
The Peace Corps said its current volunteers in Honduras were safe but would be brought back home in January.
"The safety and security of all Peace Corps volunteers is the agency's highest priority," Peace Corps Director Aaron S Williams said in a statement.
"During this time, we are going to conduct a full review of the programme."
The Peace Corps has not mentioned any specific threats but Honduras suffers the world's highest murder rate - 82 killings per 100,000 people a year.
The army is currently taking on policing duties in response to a wave of violence.
There are 222 and 113 volunteers currently serving in Guatemala and El Salvador respectively and these will remain in place.
But the Peace Corps has cancelled training classes for new recruits in these countries and will send them elsewhere.
The Peace Corps has operated in Honduras and Guatemala since 1963, sending several thousand Americans to work on projects there.
It had a presence in El Salvador from 1962-1979, returning in 1993 after the end of the country's civil war.
The Peace Corps has sent more than 200,000 Americans to serve in 139 countries since it was founded in 1961.