Colombia fuel pipeline explosion kills at least 11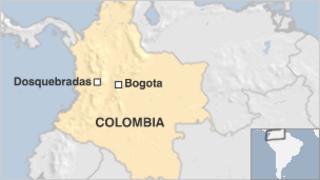 A fuel pipeline has exploded in Colombia, killing at least 11 people and leaving more than 70 others injured.
Officials suspect the blast in the town of Dosquebradas was caused by people trying to pierce the pipe to siphon off petrol.
A leak set off a fire and blast that destroyed or damaged dozens of homes.
Firefighters at the scene said more bodies might be found as they searched through the debris.
The explosion happened at about 04:30 local time on Friday morning in Dosquebradas, in the centre-west province of Risaralda.
So far at least 11 people are known to have died.
The injured were taken to hospitals in Dosquebradas and neighbouring towns.
At least 17 of the wounded are in a serious condition, medical staff said.
Witnesses said that fuel leaked from the pipe, which carries petrol and diesel, setting off a fire.
"Apparently there were people trying to perforate the pipeline to steal fuel," the mayor of Dosquebradas, Luz Ensueno Betancourt, told reporters.
The oil flowed into a stream, so officials are advising people living in the area not to drink water from there.