Mexico rehab clinic food poisoning kills five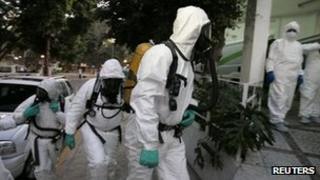 Five patients at a drug rehab clinic in Mexico have died after eating a contaminated sausage dish served as a Christmas meal, the Red Cross says.
Another 37 residents of the clinic in the central city of Guadalajara were taken to hospital.
Several are said to be in a serious condition. The authorities are investigating whether the food had been deliberately poisoned.
Mexican drugs gangs have targeted rehab centres several times in recent years.
The affected patients in Guadalajara were all admitted to hospital suffering from dizziness and vomiting after eating a dish made with soy sausage, medical officials said.
Red Cross spokesman Daniel Nunez said forensic scientists were investigating the possibility of cyanide poisoning.
"I do not know if it was intentional or whether it was human error," he told reporters.
Patients said that most of the food they eat at the clinic is donated.
Mexico's rival drugs cartels are embroiled in a vicious turf war over the domestic drugs markets and control of highly lucrative smuggling routes into the US.
Dozens of people have been killed at rehab clinics in the past few years in what officials say are often revenge attacks on rival drug gang members.