Argentina snakes on plane arrest sparks smuggling probe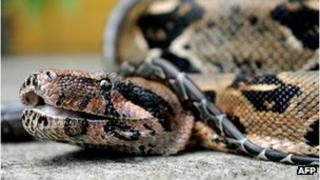 Argentine authorities are tracing a suspected major animal trafficking ring after a Czech man was caught trying to smuggle hundreds of snakes and other exotic animals out of the country.
Karel Abelovsky was arrested in early December as he tried to board a flight to Spain from Buenos Aires.
Suspicions were raised when staff manning the airport X-ray machine at Ezeiza airport saw his suitcase moving.
It was found to contain some 250 animals, including 10 boa constrictors.
"The airport workers couldn't believe it when they saw the movement inside the suitcase. It was like a cartoon," a source at the offices of Judge Marcelo Aguinsky told the Associated Press news agency.
Flight risk
The animals - including insects, spiders, lizards, venomous snakes and snails - were all native to Argentina or neighbouring countries. Some were reportedly protected under the Convention on International Trade in Endangered Species (Cites).
They were found packed into labelled plastic bags - some were already dead from lack of oxygen and others would probably suffocated had they travelled in the plane's unpressurised cargo hold.
Judge Aguinsky said some of the reptiles could have escaped during the flight if he had made it on board, posing a risk to both passengers and crew. Investigators believe he was transporting the species to Prague.
As he had only arrived in Argentina days before, investigators believe he could not have collected all the animals himself, so must have been acting as a courier for a criminal organisation.
The incident happened in the first week of December, but details are emerging only now. Mr Abelovsky, 51, has been released on bail.
He is charged with smuggling and endangering public health. He faces 10 years in prison if found guilty.