Chile forest fire ravages Torres del Paine Park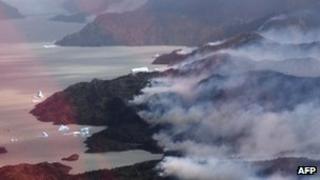 The authorities in Chile have closed one of the country's most popular national parks as a massive forest fire continues to rage through the area.
Four hundred tourists were evacuated from Torres del Paine National Park in Patagonia on Thursday as firefighters failed to stem the blaze.
Officials said more than 85 sq km (21,000 acres) had been destroyed.
Chilean President Sebastian Pinera said it could take weeks to bring the fire under control.
The head of Chile's national emergency service, Vicente Nunez, said the situation "an extreme scenario, mainly due to topography, strong winds and highly combustible vegetation".
Officials said they suspected "human negligence" triggered the fire.
'Slow response'
In 2005, a camp fire started by a backpacker destroyed 160 sq kms (40,000 acres) of the nature preserve.
President Pinera said the ministers of agriculture and the environment would travel to Patagonia to personally oversee the firefighting efforts.
The president also said the number of military personnel deployed to fight the blaze would be raised to 450.
Environmental group Ecological Action had earlier criticised the government for what it said was its slow response to the fire.
The group's co-ordinator, Luis Mariano Rendon, said it was a "national shame" that on Thursday only 25 Chilean soldiers were fighting the fires, when neighbouring Argentina had sent 23.
The fire started on Tuesday and spread quickly, fanned by high winds and fuelled by dry vegetation.