Chilean forces still battling two dozen forest fires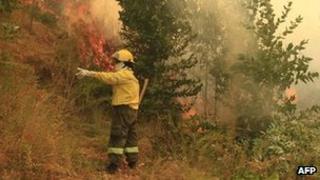 Hundreds of firefighters in Chile are still tackling some 24 forest fires in southern and central regions.
A further 18 fires have been brought under control, officials said.
The fires have burned large areas of forest, including some 130 sq km (32,000 acres) in the Torres del Paine National Park.
The authorities are monitoring the situation in the park, which they are aiming to re-open as soon as possible to minimise disruption to tourism.
Many of the fires in the park, which sees some 150,000 visitors a year, have now been contained.
Economy Minister Pablo Longueira, who visited the region, said the fires had mainly affected the southern part of the park.
"We're planning a re-opening that would encompass some 70% of the park," he told local radio, but stressed that they still needed a further evaluation.
Sorrow
An Israeli tourist has denied a charge of causing the fire in the park through negligence.
If found guilty, he could face up to 60 days in prison and a fine of around $300 (£190).
Israel has offered to help rehabilitate the park by donating seedlings.
A foreign ministry statement expressed solidarity with Chile for the sorrow caused by the damage to the park.
"Israel also experienced a similar disaster last year in the Carmel forests, and that painful memory enhances our sense of common destiny," the statement said.
In the Bio Bio region, fires have consumed 162 homes and a plant making wood panels.
A 75-year-old man died in Bio Bio after he refused to leave his home.
Some 225 sq km of land have been destroyed in Bio Bio, according to the latest official figures.
Forest fires are common in Chile during its summer but drought has worsened the problem.