Paraguay declares alert as foot-and-mouth detected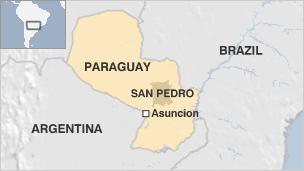 Paraguayan officials have moved to quarantine an area in the province of San Pedro to try to deal with an outbreak of foot-and-mouth disease.
The move came after authorities detected the disease in a small herd of cattle
The cattle industry was just recovering from an outbreak in the same region last September that led to the slaughter of some 1,000 animals.
Paraguay is one of the world's top beef exporters.
On Wednesday, the government declared an animal hygiene emergency in the Aguaray Amistad district in San Pedro province.
Officials said the latest outbreak was on an isolated ranch that had avoided participating in a vaccination campaign.
The head of Paraguay's Animal Health and Quality Service, Daniel Rojas, said that the renewed instance of foot-and-mouth would not affect trade with or transport through neighbouring countries.
However, the president of Paraguay's Rural Association told BBC Mundo they were deeply concerned.
"We don't want any more of this. We are really worried about the reaction of our export markets," said Juan Nestor Nunez.
Argentina and Brazil have stepped up border controls to try to stop the disease spreading into their territory. Uruguay has also increased checks on animals coming from Paraguay.
Foot-and-mouth is a highly contagious viral disease affecting cattle, pigs, sheep and goats.
In South America it is normally controlled by vaccination, as well as strict monitoring and trade restrictions.
Related Internet Links
The BBC is not responsible for the content of external sites.