Breast implants: Venezuelan women count the cost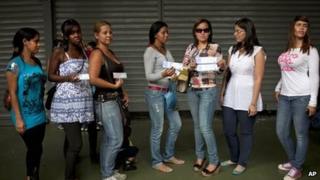 Mary Karla Perdomo was looking forward to a family Christmas in the hot dusty town of San Juan de los Morros in central Venezuela.
But news that French company Poly Implant Prothese (PIP) had been producing faulty breast implants which had been distributed around the world ruined those plans.
Mary Karla, 22, had had breast augmentation surgery three years earlier and apart from some recent back pain, she had had no trouble after the procedure.
But she went to her doctor anyway to have her implants checked and received devastating news.
"They told me the implants are already ruptured and the prosthesis has already leaked into my right breast and it's starting in the left one too," says Mary Karla, a medical student.
She needs to have her implants taken out as soon as possible.
Her family is scrambling to help her pay the price tag of some $4,600 (£3,000) for extraction and replacement of the prostheses at a private clinic.
The Venezuelan government has offered free surgery to remove any PIP implants but is not offering reconstruction or replacement.
"I originally had the surgery to look better, not worse, and if I just have the implants removed now I think it will be a psychological blow. It's going to look really ugly," Mary Karla says.
Dilemma
Like Mary Karla, Suhail Cantalamessa is reluctant to take the government up on its offer.
"No-one really wants to go to a public hospital. We want to use our own doctors or chose a clinic to both remove and replace the implants," says the 29-year-old electrical engineer from Caracas.
Suhail's situation is not an emergency - initial tests have shown that her implants are still intact.
But knowing that they could rupture is, she says, like a ticking time bomb in her chest.
"I like to go jogging, but I feel I can't exercise because I'm afraid they'll break," she says.
Suhail had saved up for some time before she had the surgery three years ago, visiting several clinics and seeking personal recommendations from friends before deciding on a doctor.
She cannot afford to pay for surgery to remove and replace the implants purely as a precaution, but she does not want to wait until she is in the same situation as Mary Karla.
Both have joined a group of more than 400 women in Venezuela who are suing five local distributors of the PIP implants.
"They're Venezuelan companies which made money from this product and they should now make that money available to the victims to get surgery to make repairs," said lawyer Dr Gilberto Andrea, who specialises in medical malpractice suits.
Dr Andrea says the group will later consider bringing other lawsuits against the French state and any individual doctors who may be at fault.
The women came together through a Facebook page "Afectadas por Protesis Mamarias PIP Venezuela" (Women affected by PIP Breast Implants Venezuela) which has grown rapidly in recent weeks.
That number is likely to keep on increasing.
Feeling guilty
The Venezuelan Society of Plastic and Reconstructive Surgery estimates between 35,000 and 40,000 women in the country have breast enlargement surgery each year.
In Venezuela - as in much of Latin America - there is little, if any, stigma to having plastic surgery.
What could be seen as vanity in some societies, is admired as good personal presentation in Venezuela.
Weekends are for spending at the beach and showing off your physical attributes, be they natural or man-made.
The plastic surgery sector has built on this cultural cornerstone to become big business.
There are hundreds of clinics in the country. Special bank loans are available to pay for cosmetic surgery procedures.
But this business is at risk if the PIP affair ends up turning the tide of public opinion.
As dozens of women gathered in central Caracas earlier this month to see court documents filed, 50-year-old Charo Perez turned to me to complain about her situation.
She was angry and frustrated by the casual response she had had from the clinic that had performed her surgery.
She was worried, too, about her health should her implants rupture.
But she also felt depressed.
"I feel guilty," she admitted "I feel like I should never have had this done."
Mary Karla also regrets her decision to go under the knife.
"If I could go back in time," she says, "I wouldn't have the surgery again."