El Salvador head apologises for 1981 El Mozote massacre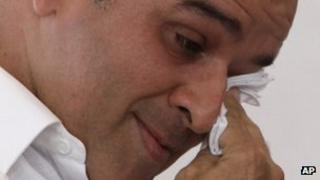 El Salvador's President Mauricio Funes has sought forgiveness for what he called "the worst massacre of civilians in contemporary Latin American history".
In 1981, soldiers killed some 1,000 people, nearly half of them children, in the town of El Mozote.
They had been accused of collaborating with left-wing guerrillas.
Mr Funes made his emotional apology on the 20th anniversary of peace accords that ended the nation's civil war.
The president travelled to El Mozote, some 200km (120 miles) from the capital, San Salvador, near the border with Honduras.
"For this massacre, for the abhorrent violations of human rights and the abuses perpetrated in the name of the Salvadoran state, I ask forgiveness of the families of the victims," he said on Monday.
Breaking at times into tears, Mr Funes said: "In three days and three nights, the biggest massacre of civilians was committed in contemporary Latin American history".
No trial
Between 11-13 December, 1981, soldiers from a now-banned battalion, the Atlacatl, shot dead residents of El Mozote suspected of sympathising with left-wing rebels.
It was the bloodiest single episode of El Salvador's 12-year civil war that that left some 75,000 dead.
Those responsible were not put on trial as the authorities agreed a general amnesty in 1992, as part of negotiations to end the civil war.
President Funes said the country's armed forces, 20 years on from the peace accords, were very different, "democratic and obedient to civilian power".
He called on the army to revise its history to avoid honouring those responsible for human rights abuses.
Mr Funes made the first apology for civil war-era atrocities in 2009 and last December the government asked for forgiveness for the massacre of El Mozote.
He was elected president in 2009, the first leftist leader in El Salvador for 20 years.
His party, the Farabundo Marti National Liberation Front (FMLN) was founded by Marxist guerrillas who fought the US-backed government in the 1980s.