Haiti army: Michel Martelly's plans divide opinion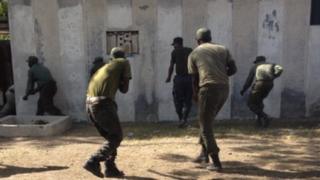 Haiti's President Michel Martelly has proposed reviving the country's army, which was disbanded in 1995.
He says it is time Haiti defended its own borders. Yet critics inside and outside the country are asking whether bringing back an entity so associated with Haiti's violent past should really be a priority for the earthquake-ravaged nation.
Inside a dusty, makeshift parade ground on the outskirts of Port-au-Prince, 200 young volunteers in green army fatigues are marching up and down, mostly in step.
Their dream is to join the army.
Suddenly, they drop to the ground, imaginary guns in hand. Despite the sign on the gatepost which says Armee D'Haiti, this is not an official army base.
The men and women are enthusiasts who buy their own uniforms and meet their own training costs, hoping one day to enlist for real.
The prospective recruits are being drilled by an ex-soldier, Commandant Jeudy Yves.
The former military man says President Martelly's plan to revive Haiti's army is exactly what the country needs.
"We can protect our own borders, our own airport, and our own waters. Haitians should be doing this, not foreigners. The United Nations peacekeepers are foreigners, and they don't know us," he says.
Resentment towards UN peacekeepers, who have been providing security for Haiti since 2004, has grown in the wake of the cholera epidemic which broke out in late 2010.
UN troops from Nepal are suspected of having introduced the disease into the country.
"The UN hasn't looked after Haiti, they've only killed more people. We will do a better job of caring for our own," one potential recruit says angrily.
Bad memories
High in the hills of Peguy Ville, above the plain where the army hopefuls drill, President Martelly told the BBC that his proposal to restore Haiti's army should not be seen as controversial.
"We do have an army here today, which is not ours. So why have a foreign army and not have our own? They could be Haitians," said Mr Martelly.
"We are looking for jobs for our youth, for Haitians. Why do we offer so many jobs to foreigners and not to Haitians? It does not make sense to me."
However, talk of reforming Haiti's army has proved divisive in a country with a violent past.
The armed forces were disbanded in 1995 by the-then President, Jean-Bertrand Aristide, after being involved in a series of coups.
Feared private militias such as the Tontons Macoutes were used by the Duvalier presidents, Papa Doc and Baby Doc, to cement their own rule and silence opposition.
Pierre Esperance, executive director of the National Human Rights Defence Network, said: "The army we used to have in Haiti was involved in a lot of crime, drug-trafficking, human rights violations.
"If they create a new force, it should work to support the democratic movement in Haiti."
The concern that Mr Esperance and others have is how to keep the army independent of politicians, so it does not revert to being an oppressive instrument of the governing class.
President Martelly, the singer-turned-politician, argues that times have changed in Haiti.
"We're talking about a modern army, we're talking about an army which can intervene in case of an emergency like the earthquake with the medical corps, an engineering corps," he said.
He went on: "An army that protects our borders, fights narco traffic and maintains peace too in case of a riot."
But in the past, rulers in Haiti have used militias to suppress dissent, so how will the army be different this time?
"That's why I'm focusing on the mission," Mr Martelly said, "on the doctrine, not on the army, not on the name itself because many people are scared of the name."
Mr Martelly said he recognised that, for many Haitians, the army brought back memories of the past.
"But the thing is to have the right formation - that's why we want our allies, our partners, to help us in putting together the right army with the right mission."
Police priority
So far the Western countries helping Haiti to rebuild after the earthquake have proved reluctant to fund a new army, asking whether this should be a priority for a nation with so many challenges.
"In terms of providing security for the Haitian people, we are committed to helping them professionalise and grow the Haitian national police," the US ambassador to Haiti, Ken Merten, told the BBC.
"That's where we think we and the Haitians will get the most bang for their buck."
President Martelly is likely to eventually find the funds for a new army, analysts suggest, but it will be a modest force to begin with.
For the enthusiastic prospective soldiers square-bashing in the afternoon sun, that day cannot come soon enough.
Marcel, an impassioned young man, says bringing back the army will help the youth who are living in desperate poverty.
And Bernadette, a tall young woman, says: "We need security, and the army would provide that."